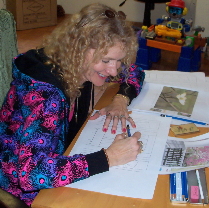 STAINED GLASS IS MY ART
...... STAINED GLASS IS MY CRAFT
DO YOU HAVE A WINDOW THAT YOU WOULD LIKE TO REPLACE WITH STAINED GLASS?

IS THERE A SPECIAL ENTRY OR PASSAGE DOOR THAT YOU WOULD LIKE WITH STAINED GLASS?

LET ME DESIGN AND CREATE ONE FOR YOU!

"My goal is to blend the hardness of glass with the "softness" of color, while using the pallet of a painting to let the light translate your dreams."

LET YOUR IMAGINATION CREATE A STAINED GLASS WINDOW FOR YOUR HOME.